These are the organic products you need for your hygiene routine
The Essentials
We present a selection of organic products with which you can continue with your hygiene routine while collaborating with the environment.
9 octubre, 202000:31
Aleksandra Ivanova
In our facial and body hygiene routines, we usually use many products that, after use, are not reusable, such as make-up remover wipes, shampoo bottles or toothbrushes. In fact, many of these items are made from a type of plastic that is very difficult to recycle. For this reason, we present this list of organic products that you can use in your daily routine and with which you will reduce the consumption of plastic and chemical products that can be harmful to your skin.
Among the products we have selected you will find some special ones for the face, hair and body. From microfiber make-up remover wipes to sulfate-free solid soaps and shampoos. Take a look and immerse yourself in a new eco-friendly routine that millions of people around the world have already joined.
Microfiber makeup remover wipes
Microfiber makeup remover towels are one of the products most used by men and women when it comes to getting rid of makeup. These clean the pores of the face and remove all traces of makeup using only water. To clean it, you just have to wash it by hand or in the washing machine and let it air dry. These types of towels are an ecological alternative that is more respectful of the skin and thanks to which you can also save money. Get this product and receive 4 pieces of microfiber makeup remover wipes.
Comprar por 14,95€
Reusable make-up remover pads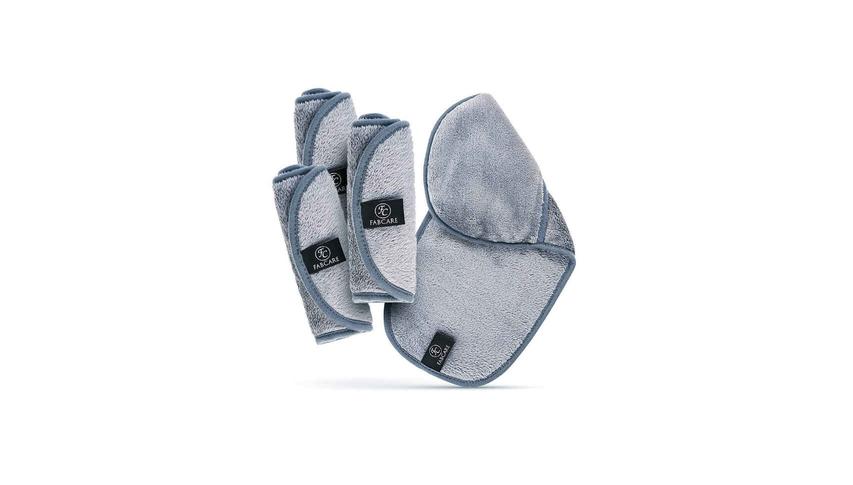 In addition to microfiber towels, another eco-friendly option is reusable pads. Now you can get rid of the disposable discs and replace them with the ones we present below, which you can use with your favorite facial products as many times as you want. This pack includes 20 reusable pads, a storage bin, and an organic cotton laundry bag. The pads are 100% natural and have an incredibly soft touch that is respectful of all skin types.
Reusable make-up remover pads
Comprar por 13,99€
Bamboo Toothbrush Pack
The plastic from which most toothbrushes are made is very difficult to recycle, that's why we present these made of bamboo with 2 types of bristles. In this package you will find, on the one hand, grayish-black bamboo charcoal brushes specially designed for sensitive and soft gums and, on the other hand, wood-colored bamboo fiber brushes, perfect for people who prefer harder toothbrushes. . Get this sustainable and effective product for your oral hygiene.
Comprar por 11,99€
Bio cleansing gel
To complement your facial cleansing routine, we recommend this Bio cleansing gel from the Garnier brand. This product is part of the natural, ecological, sustainable and responsible cosmetics that, in addition, is reaching more and more people. Its formulas are vegan, without ingredients or by-products of animal origin. This cleansing gel and its recyclable packaging have been produced sustainably and under fair trade.
Comprar en Amazon
Selection of 6 soaps for face and body
Get this set of 6 soaps perfect for the face and body. They have been carefully designed with a perfect combination of authentic, organic, natural elements and with sustainable palm oil. Each bar of soap is made with organic, all-natural, cruelty-free, sulfate-free, and paraben-free ingredients. Plus, these bars of soap come in a recyclable gift box.
Comprar por 20€
solid shampoo for hair
Solid shampoo for hair could not be missing from our list either. This set comes with 6 handmade, high-quality, all-natural shampoo bars, giving your hair and scalp a gentle and effective cleanse. This eco-friendly shampoo is perfect for men and women and has been made with natural and organic ingredients that are 100% plastic-free, non-GMO, and free of fillers. In addition, these pills are ideal for all types of hair.
Comprar en Amazon
ecological deodorant
Replace your classic deodorant with this Lemon Geranium deodorant, which features a light, whipped texture that melts effortlessly on contact with the skin and provides all-day protection. It's made from an innovative blend of Magnesium Oxide and Baking Soda that provides total odor control, while organic Coconut Oil and Shea Butter nourish delicate underarm skin.
Comprar por 14,69€
This is content produced by Marcas Ñ, the Branded Content section of El Español. The prices of the items that appear here are collected as of 10/9/2020.
Follow the topics that interest you