Woman beauty treatments must be personalized: "One skin is not the same as another"
When I opened my first center I was clear.I wanted to work following individualized treatments guidelines, knowing that one skin is not the same as another and that the personalization of protocols for their care must be mandatory.Today we continue with that philosophy, although much more strengthened and rooted in our methodology because we have incorporated the last and most innovative apparatus that helps us to make the diagnosis much more precise.
It is very important that those of us who dedicate ourselves to the world of beauty, aesthetic medicine and the general health of skin and hair are experts in personalized diagnosis and, above all, that we have the appropriate tools for our team to be inconstant training.
It is an incentive for them because they detect the importance of individualization and for our clients because they trust more and that helps them to be more disciplined in the routines that we propose to make at home.Another important guideline is monitoring, that is, a treatment does not end when the cabin is abandoned.Being in continuous communication with a person who has undergone a ritual or who has acquired products that we have recommended to use at your home is also a maximum that should not be overlooked in beauty centers.
Paz Torralba, director of The Beauty Concept.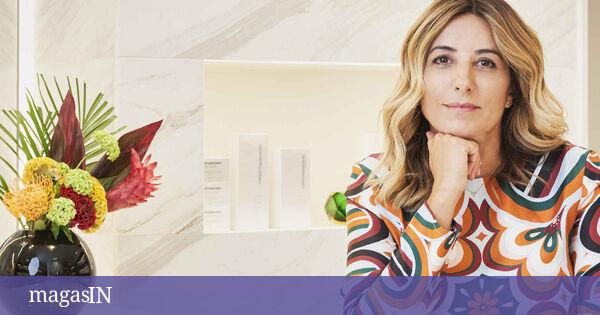 One of them is a H2 Vectra with which we are working a lot given its sophistication in the analytical process of the skin and also because each person who visits us for this diagnosis impresses the vision so exhaustive that is made of his skin.Many times they tell us that it is somewhat shocking because it is true that entering the entrails of the skin sometimes scares, since there are no barriers when showing spots, dehydration, lack of elasticity, sagging and itsProgression ... But the good side of all this is that we can act on each situation in a very effective way.
Wrinkles, pigmentation, texture ... we can improve everything safely and effectively.In addition, this apparatus also allows us.These types of simulations work very well in our aesthetic medicine team and also in therapists who perform non -invasive protocols.
It makes no sense to advise a treatment or a cosmetic without having the certainty of highly satisfactory results.First, because we put at risk the health of a person who has visited us with confidence and who has deposited their hopes in us to solve a problem.And second, because we will lose all credibility and reputation at a time.Personalized diagnosis will allow us both situations not to happen and, in addition, it will help us perform an impeccable and highly sophisticated service with our clients.
Previous hair diagnosis
In the case of hair, this previous diagnosis is equally important.For example, the colorimetry service is offered so that a person lookingfactions.
In this way, we will achieve an impeccable result because it is true that we currently play much more with the tone of the hair and change more regularly than before.This is because hairdressing halls are more sophisticated in their processes every day and that have better formulated products.To all this, human teams have a great training by the suppliers that every so often review and update their color, cut and hairstyles.
With all this, I ratify once again to work individually with each person is not a service to choose from, but the first step when a person enters one of our beauty centers or in our hairdressing hall.I always point it out in all interviews or forums and I am very little belligerent with those centers that do not do it because they are not offering an impeccable service.
During the pandemic I personally took care of doing them through my personal mobile and with videos or photographs that our clients sent me.It was very helpful and many people understood the importance of this protocol so that nobody is surprised that we often cannot offer a specific price in certain treatments without first having executed this diagnosis since the skin does not always need or demand what we believe.We must read what he tells us and follow his demands.The opposite would be absurd and we would not get good results.
Follow the issues that interest you